JOIN OUR LIVE ONLINE SERVICES

We are available on our online streaming platforms to ensure that there are no interruptions in our church experience.

Pastors Jeff and Demetria We're glad you're here.
We're excited to be reaching out and developing relationships with the churched and un-churched, saved and unsaved, ultimately leading people to the saving grace and knowledge of Jesus Christ.

We thank you for taking your time to stop by. If you're in the Northern Virginia area, feel free to check us out in person. In the meantime, if you have any questions we're always willing to answer them to the best of our ability — just contact us.
Pastors Jeff and Demetria
MISSIONS WE SUPPORT: Local Non-Profits
pastoral care, food drives and advocacy. We here at The River have partnered with them through and initiative called "Blanket Manassas" where we donate cases of new warm blankets for them to distribute to the unsheltered, especially during the harsh winter months.
The mission of MH&HO is to provide Christ-centered services to the poor, hungry and unsheltered homeless in the Manassas area of Prince William County through weekly outreach, meals,
The mission of NVFS is to empower individuals and families to improve their quality of life and to promote community cooperation and support in responding to family needs. The SERVE campus provides assistance and services to poverty level individuals and families in Manassas, Manassas Park and the surrounding communities in western Prince William County. Additionally, the last three years we here at The River have prepared and served a hot and delicious Christmas dinner for individuals and families at the SERVE campus.
Christmas Toys for Kids is a seasonal outreach arm of the River Christian Center whereby we collect and provide safe, non-violent and non-threatening toys to low income children and underserved children in our area.
MISSIONS WE SUPPORT: Global Non-Profits
352 Seventh Avenue, Suite 400

New York, NY 10001

(MDA) is Israel's ambulance, blood-services, and disaster-relief organization, serving as emergency medical first responders for the state's 8 million people.

MDA relies on donors to ensure dispatch centers are equipped with the latest communications technology, ambulances are stocked with cutting-edge lifesaving equipment, and paramedics have the most up-to-date training.
P.O. Box 7743
​
Charlotte, NC 28241
Vision for Israel is a non-profit organization created out of the desire to help build and restore the nation of Israel, both spiritually and physically. Also, Vision for Israel freely provides aid to the poor and needy people, both Jewish and Arab, living in the nation of Israel today through The Joseph Storehouse, an international humanitarian aid center operating in the Judean Hills just outside of Jerusalem.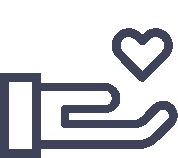 "Whoever is generous to the poor lends to the lord, and he will repay him for his deed."
Financial giving through the church is done in two ways: tithes and offerings.
The Bible teaches that we worship the Lord by bringing Him our tithe, which is 10% of our income. When we give in addition to our tithe, it's called an offering. God tells us in His Word that He loves a cheerful giver, which is why we always want to create opportunities to give as He leads us and with a cheerful heart, through no obligation.
If you're ready to give, you can do it online, in a service, or through a text message.